REMUS proudly presents:
A remote controlled, bi-modal valved performance sport exhaust for the Ford Mustang 2.3l EcoBoost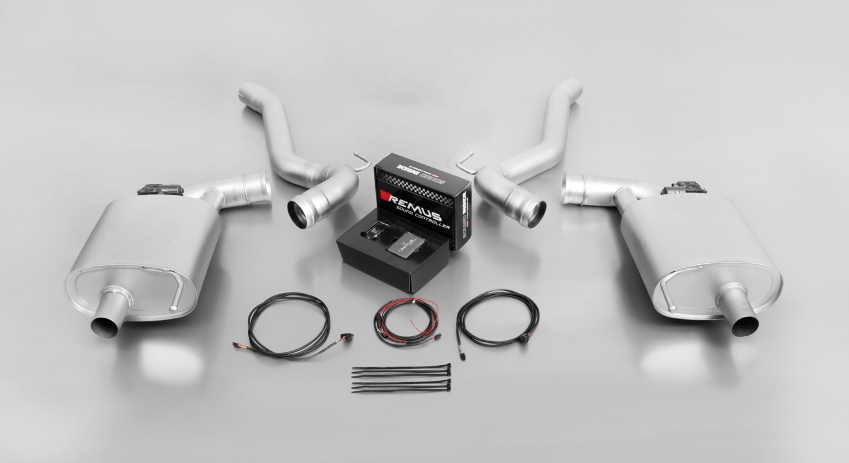 EC approved sport exhaust with five fully adjustable tail-pipe options
Aggressive racing sound
Power increase
Reduced back pressure
Lighter construction
36 month warranty
REMUS has developed a performance cat-back sport exhaust system for the new Ford Mustang with a total 5 different tip options to choose from. The REMUS remote controlled, bi-modal valved performance sport exhausts are designed for both the 2.3l EcoBoost and 5.0l V8 engines and feature oversize tubing and free flowing internals to ensure that both engines deliver maximum horsepower and torque.
The unique REMUS muffler design feeds the fully adjustable slip-on rear tips which have 5 optional designs and sizes to customize the rear aesthetic based on your specific preference.
These tip designs include 102mm angled carbon fiber with titanium internals, 102mm angled chrome, 98mm non-angled black chrome with carbon insert, non-angled stainless with carbon insert and 102mm angled, straight cut, chromed.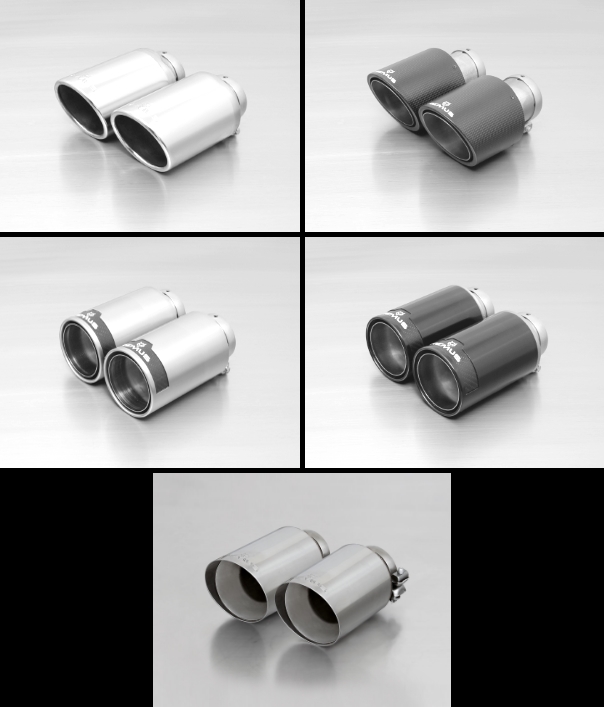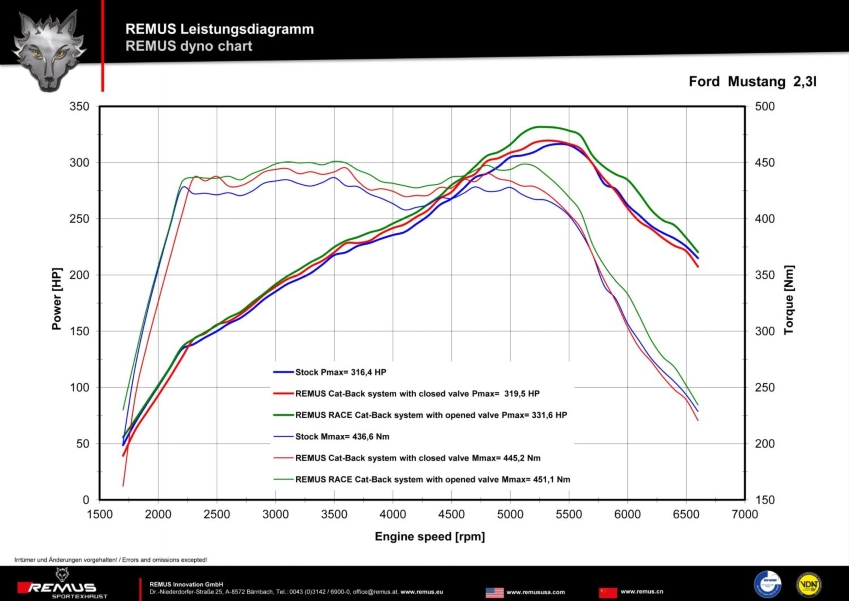 Experience the powerful sound of the REMUS sport exhaust Ford Mustang 2.3l EcoBoost
Get up to 25% more power with the REMUS Powerizer
The electronics of the REMUS Powerizer enhances in real time the engine management parameter. The engine mapping is optimized multiple times per second and ensures for a considerable and noticeable power increase. The engine safety parameters and management remains totally original to ensure that individual engine components are not overstrained. Furthermore, the original mapping software remains totally untouched.
Due to the Plug & Play concept, the REMUS Powerizer is simple to install and can be easily removed. Due to the torque increase, the engine has more power at lower RPM which leads to a reduction in fuel consumption. The power increase of the engine can be adjusted by using the push button switches on the control unit.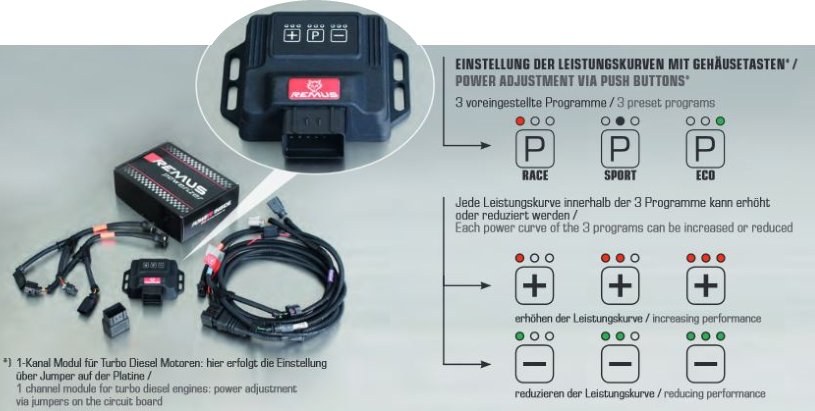 Reach even more driving pleasure with better throttle response with the REMUS Responder
The REMUS Responder improves throttle response by means of modifying the accelerator pedal output signal. No more throttle delay and reduced lag during automatic shifting makes driving with the REMUS Responder more fun. The Responder attaches between the OEM pedal sensor and the OEM connector, ready to use in seconds due to plug & play technology.
Sophisticated adjustable programming profiles can lead to improved fuel consumption and more efficiency. The 4 individual user selectable and adjustable performance settings allow drivers to select according to their own preferences. The REMUS Responder totally eliminates the delay in modern electronic accelerator pedals!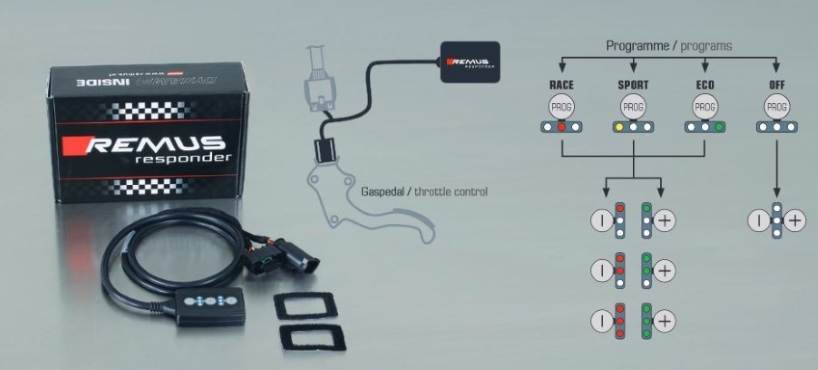 Improved throttle response
Quicker reaction times
More dynamic
4 individual selectable and adjustable performance settings
Vehicle specific programming
Simple plug & play installation