REMUS presents the sport exhaust
for the VW GOLF VII GTI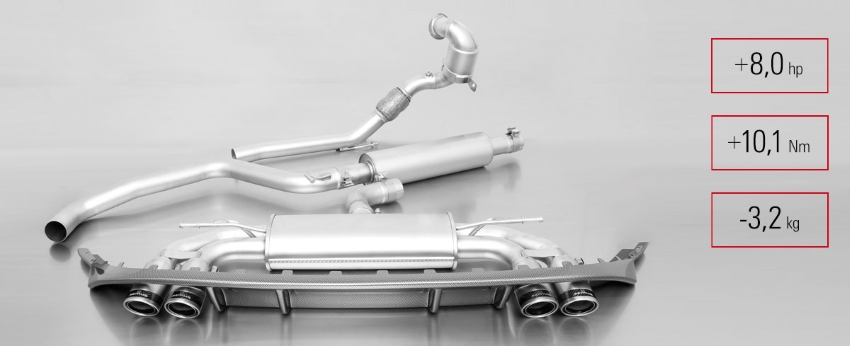 EC approved sport exhaust with five fully adjustable tail-pipe options | Aggressive racing sound | Power increase | Reduced back pressure | Lighter construction | 36 month warranty
We have developed a power package for the Golf VII GTI and Golf VII GTI Performance (type AU, from model year 2013). It consists of the REMUS Powerizer, a REMUS sport exhaust system with downpipe, front silencer and rear muffler as well as rear apron. The corresponding components are now available individually or in a package through REMUS.
The new sport exhaust systems impress not only with the fully shot-blasted surface but also with its even more aggressive sound and in particular with its lightweight construction. This is achieved thanks to a reduction in wall thickness while keeping the same strength. The new muffler interior construction ensures a more aggressive sound. The fully shot-blasted surface made from stainless steel with aerodynamic optimized inner workings guarantees the maximum life and constant sound. The same applies for the exhaust system of the power package for the models Golf VII GTI and GTI Performance.
The silencer is provided with five fully adjustable slip-on tailpipes , which are available in five different designs, to give you the maximum individuality in configuration of your vehicle.
Choose from chromed tailpipes (angle, 84 mm diameter), Street Race polished tailpipes (84 mm diameter), Street Race black chrome tailpipes (84 mm diameter), Carbon Race polished tailpipes (angle, 84 mm diameter) and carbon tailpipes (angle, 84 mm diameter) with titanium internals.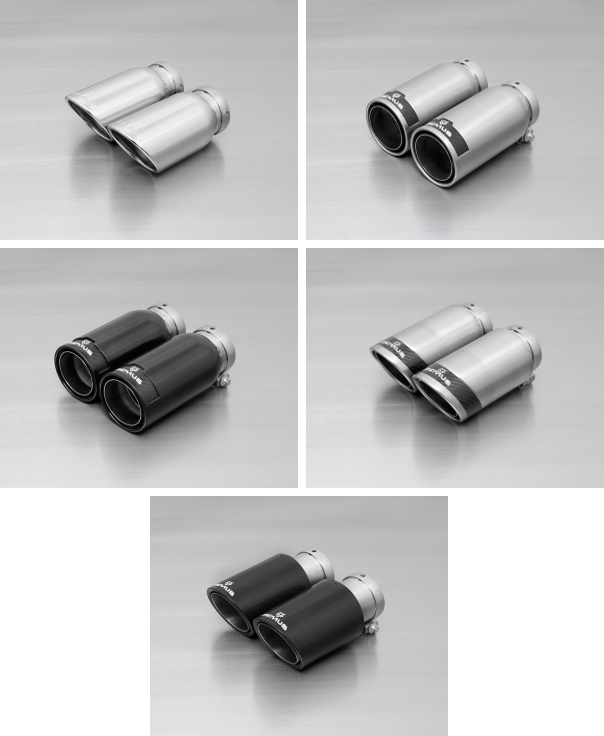 Experience the powerful sound of the REMUS sport exhaust for the VW GOLF VII GTI
Get up to 25% more power with the REMUS Powerizer
The electronics of the REMUS Powerizer enhances in real time the engine management parameter. The engine mapping is optimized multiple times per second and ensures for a considerable and noticeable power increase. The engine safety parameters and management remains totally original to ensure that individual engine components are not overstrained. Furthermore, the original mapping software remains totally untouched.
Due to the Plug & Play concept, the REMUS Powerizer is simple to install and can be easily removed. Due to the torque increase, the engine has more power at lower RPM which leads to a reduction in fuel consumption. The power increase of the engine can be adjusted by using the push button switches on the control unit.
This brings the VW Golf VII GTI 33Hp more power and 50Nm more torque
Original: 169kW, 230Hp, 350Nm | Tuned: 194kW, 263Hp, 400Nm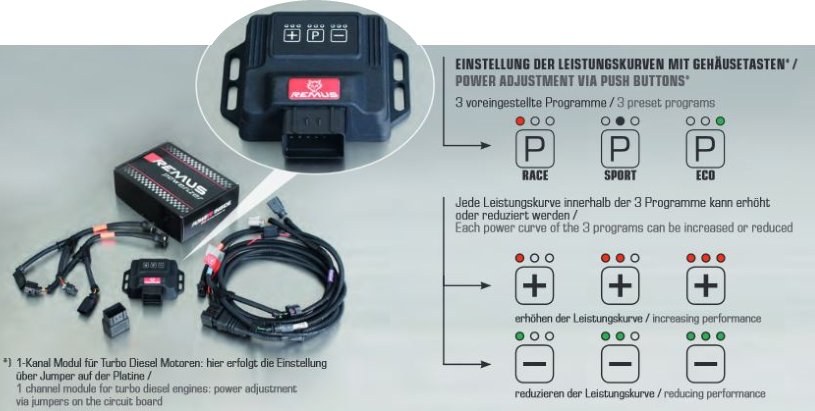 Reach even more driving pleasure with better throttle response with the REMUS Responder
The REMUS Responder improves throttle response by means of modifying the accelerator pedal output signal. No more throttle delay and reduced lag during automatic shifting makes driving with the REMUS Responder more fun. The Responder attaches between the OEM pedal sensor and the OEM connector, ready to use in seconds due to plug & play technology.
Sophisticated adjustable programming profiles can lead to improved fuel consumption and more efficiency. The 4 individual user selectable and adjustable performance settings allow drivers to select according to their own preferences. The REMUS Responder totally eliminates the delay in modern electronic accelerator pedals!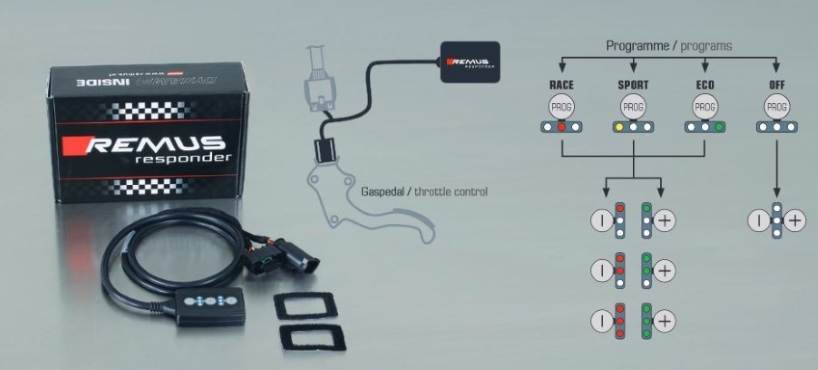 Improved throttle response | Quicker reaction times | More dynamic | 4 individual selectable and adjustable performance settings | Vehicle specific programming | Simple plug & play installation